FOUNDED IN 1980 AT THE CURRENT SITE IN INDUSTRY, TEXAS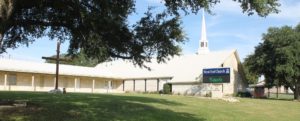 The mission of the West End Baptist Church is given by our Lord in the Book of Matthew,
Chapter 28, Verses 19-20:
"Go therefore and make disciples of all the nations, baptizing them in the name of the Father and of the Son and of the Holy Spirit, teaching them to observe all things that I have commanded you; and lo, I am with you always, even to the end of the age."
We seek to do this through continuously..
.
W
orshipping in spirit and truth,
E
quipping the saints for the work of ministry,
S
upplicating for all needs,
T
eaching disciples to observe all things,
•
The BIBLE is God's inspired and inerrant written revelation of Himself to us.
• God is creator and Lord of all, eternally existing in three persons as:
God our heavenly FATHER who is our life giver and life sustainer,
God's Son, JESUS CHRIST, who came to save us from our sins and give us eternal life, and
God the HOLY SPIRIT who is God living in us.
• Man is God's special creation made in His image for fellowship.
• Sin is man's prideful rebellion against God's will.
• Salvation is God's gift of His Son Jesus Christ to us by His grace through our faith.
• The CHURCH is God's people called to follow Jesus Christ as Savior and Lord.
• HEAVEN is the eternal home for the family of God.
• HELL is an eternal place apart from God, reserved for Satan and those without Jesus Christ as Savior.
• The Second Coming is Jesus Christ's return to judge the world and gather his children.
NOTE: For a more detailed explanation and Biblically referenced understanding of our beliefs refer to the Baptist Faith and Message, adopted by the Southern Baptist Convention, June 14, 2000. Copies of this document are free upon request.
Pastor Dennis Keen and his wife Sheila have served the WEBC for the past 35 years. They have 3 children and 2 grandchildren. Pastor Dennis is a graduate of the University of Houston (B.S.) and the Southwestern Baptist Theological Seminary (M.Div.). When not pastoring and enjoying the fellowship of WEBC folk, Dennis and Sheila enjoy working and playing at the farm in East Texas.
Robin has been our Worship Leader for 5 years. Robin has been married to her husband Pat for 30 years. They have 3 children and 3 grandchildren. Robin has a servant's heart and leads our Worship Team in providing an atmosphere of spirit-filled worship that is conducive for a diversity of backgrounds of all ages.
Pat Marek has served as our church secretary since 1990. Pat is a native of Caldwell, Texas. She was married to her late husband Charlie for 45 years and has 2 married sons and 8 grandchildren. Pat is called the "Church Secretary" but everyone knows that her humble service and love for the Lord and His church is much more than that.